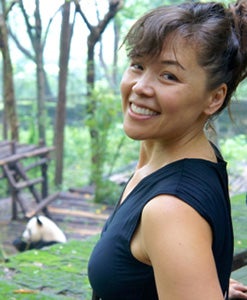 Sharon J. Hall
School of Life Sciences, Assoc. Professor
LSA 320; sharonjhall@asu.edu; Click here for my CV
Read more about me
I am an ecosystem ecologist with interests in conservation and the dynamic relationship between humans and the environment. How do humans change ecological systems, and how do these changes in turn affect human behavior?   What types of ecosystem and landscape management practices enhance environmental quality and human well-being?
A bit of personal history: I grew up in Oakland, CA and graduated from Stanford University in 1990 with a B.S. in Biology with a focus in Neuroscience. I became interested in the environment after spending the better part of a year diving in the kelp forests of the Monterey Bay and teaching at the Monterey Bay Aquarium. I pursued an Ed.M. degree at Harvard University in 1992, and then completed a Ph.D. in 1998 in Soil and Ecosystem Science at UC Berkeley.  After a post-doc at the University of Colorado, I became a faculty member in the interdisciplinary Environmental Science Program at The Colorado College.  In 2005, I joined the faculty in the School of Life Sciences at ASU.  On a daily basis, I feel lucky to work with talented, curious students and colleagues on important questions related to ecology, conservation and human-environment sustainability.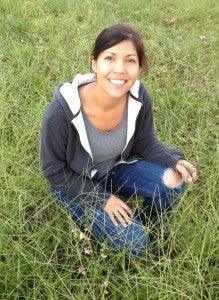 Michele Clark
Ph.D. Student
Read more about me
I graduated with my M.S. degree in Ecosystem Science and Management from Texas A & M University in December 2014. My research focused on the effects of grazing management and the seasonality of prescribed fire on invasive grass growth and establishment. I also contributed to an international research project that evaluated the influence of prescribed fire and grazing on the abundance of a native encroaching shrub species in the Limpopo province of South Africa.
I hope to continue developing research questions that assess the efficacy of management techniques on controlling invasive species and forecast the effects of plant invasions on community diversity and productivity. My other research interests include social-ecological resilience to disturbance or invasion, threats to biodiversity (regional and global), land manager perceptions of invasive species, and ecological restoration.
Hannah Heavenrich
Lab Manager
LSA 301
hheavenr@asu.edu
Read more about me
I am a midwest native, born and raised and Michigan and in 2012 I graduated with a Bachelors Degree in Environmental Studies from Carleton College in Minnesota. At Carleton I devoted most of my time to environmental initiatives and student government as well as ecological research studies. After studying the grasslands and upland forest of the Great Plains region, I spent time in Maine, Michigan, Minnesota, and South Carolina as a researcher as well as an outdoor education instructor for elementary, middle, and high school age students. I spent the last year exploring my passions until settling on ASU for my graduate study. With a background in terrestrial biogeochemistry and ecosystem ecology, as well as dabbling in marine biology, I decided to narrow my focus to terrestrial ecology in the urban setting. Urban ecology provides the opportunity for me to study the location in which human-environment interactions are extensive and constant.
Megan Wheeler
Ph.D. Student
Read more about me
I graduated from Harvey Mudd College in 2013 with a BS in Mathematical and Computational Biology and joined the Hall lab in 2015 to pursue my interests in urban systems and the links between social and ecological processes. In the meantime, I worked on several projects at the Marine Biological Laboratory in Woods Hole, MA, primarily focusing on grassland-type ecosystems. In addition to projects to establish native species-rich grassland on old agricultural grasslands and to slow woody invasion of grasslands, I began work with the Ecological Homogenization of Urban America project looking at residential lawn species composition and diversity. Through this experience I have narrowed my interests to focus on urban systems. I plan to use my computational tools to understand and predict urban ecosystem functioning in the future.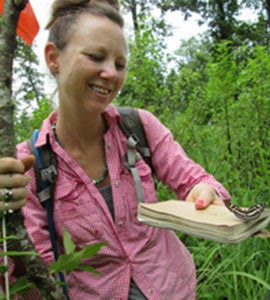 Jennifer Learned
Research Associate, Cease Lab, School of Sustainability, ASU
jlearned@asu.edu; Click here for my CV.
Read more about me
My passion for science has landed me in diverse niches, most recently into the Hall lab. Here I provide support for projects involving the biogeochemical impacts of urban activities on the surrounding habitat and biological communities. This exciting research involves many collaborators, including faculty, graduate and undergraduate students in ASU's School of Life Sciences, the Global Institute of Sustainability and the Central Arizona-Phoenix Long-Term Ecological Research project. My goal is to contribute to the progress of as many projects as possible through the technical, logistical and intellectual support of our team. My research experience began as an undergraduate and graduate student at Northern Arizona University, where I was involved with studies concerning the population genetics and reproductive biology of isopod crustaceans in the Shuster lab. I worked for a few years in the biofuel industry as a field scientist testing innovative bioreactors, which used algae to turn CO2 emissions into fuel (click here to see how it works). I have also spent a few field seasons monitoring endangered migratory birds. Throughout all of my pursuits I've maintained a teaching role, whether it be as an instructor for an online biology class or a face-to-face adjunct instructor at a nearby community college. Bringing it all together, what drives me is the accumulation of new knowledge and the opportunity to share ideas and motivate my peers. I am truly excited about what we will achieve in this exceptional time and place!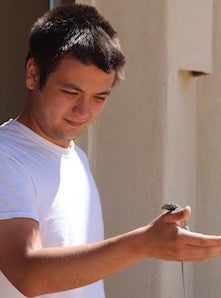 Joe Rittenhouse
Former undergraduate research student
Read more about me
As an undergrad here at ASU I've been working in multiple labs to gain as much experience as possible in a wide array of studies. I am still attempting to figure out what direction I want to take in the future, although working with everyone here and helping with experiments where I can has been an enjoyable experience for me this past year. As for personal interests outside of school/work, I like animals (mainly reptiles and cats) as well as typical boring things like videogames and hiking trails.
Elizabeth Cook, Ph.D.
Post-doc, Universidad Austral de Chile
Yevgeniy Marusenko, Ph.D.
Post-doc, UC Irvine
David Huber, Research Specialist, Lab Manager
Ph.D. Candidate, Idaho State University
Dana Nakase, M.S.
DeAnza Community College
Jolene Trujillo, M.S.
US EPA
Rachel Davies, M.S.
Portland, OR
Julea Shaw
Ph.D. student, UC Davis
Read more about me
I am a senior conservation biology and ecology major, and have spent my time at ASU working on a variety of projects in the Hall Lab. Through my work on these projects I have narrowed my own research interests and seek to understand how abiotic and biotic factors interact to drive ecosystem function. Specifically, I have been exploring how top-down and bottom-up factors affect herbaceous annual plant growth in the Sonoran Desert. I am currently working on a project for my honors thesis on how surface rocks interact with water and nutrient availability to affect annual plant productivity.
Caitlin Holmes
Program Manager, LandPKS, Las Cruces, NM
Read more about me
Soil health is indicative of environmental and human wellbeing. As a conservation biology major and a sustainability minor, I am focused on combining the important environmental and social components of ecology and finding solutions to current issues in urban ecosystems. Urban gardens—my current research focus—provide multiple ecosystem services for people and the environment. I am analyzing garden plots in Phoenix to determine if urban gardens are safe to produce food for inner-city communities. In a city, heavy metals, such as cadmium and lead, are abundant and could be hazardous to people if they consume foods grown in contaminated soils. Determining the geography of contamination in Phoenix urban gardens is my ultimate goal.
Michelle Schmoker, B.S.
Union of Concerned Scientists
Erica Warkus, B.S.
University of Hawai'i Medical School
Joseph Canarie, B.S.
Geisel School of Medicine at Dartmouth
Matthew Camba, B.S.
Stephanie Amaru, B.S.
Brenda Ramirez, B.S.
Tejkaran Dhillon, B.S.
Arun Ghimire, B.S.
Patrick Ortiz, B.S.
Vytas Pabedinskas, B.S.
Samantha Straus, B.S.
Teidra Williams, B.S.